Welcome from the Headteacher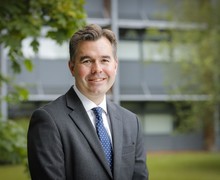 St Birinus School is a vibrant, dynamic school focused on developing our students into being modern, well-rounded young men who can thrive. We are determined to break some of the unfair stereotypes which teenage boys can carry and believe in them as articulate, resilient and emotionally intelligent young men who will grow up to play a significant role in society and influence the world around them.
Our school is based on a strong sense of identity, a tangible ethos and energy which visitors always comment upon; all of this is encompassed within our core values of "Inspiring Excellence through Care, Courtesy and Commitment". Although fundamentally a boys' school, we are collaborative partners in the Ridgeway Education Trust – a multi-academy trust committed to educational excellence – and share our 16-19 provision with Didcot Girls' School in the form of Didcot Sixth Form. We value this partnership and see it as a driving force for developing educational provision in Didcot and its surrounding areas in the future.
Our results are excellent: students at St Birinus achieve well above the national averages for boys. We are committed to the very best teaching and learning. Our teachers know how to teach boys; focusing on high standards and expectations in behaviour, uniform and equipment; careful planning of activities which engage students of all aptitudes and abilities; and instilling in students a spirit of enquiry and genuine curiosity about the world around them. We offer a broad curriculum which includes Engineering and Dance, Food Technology and Drama; STEM subjects are strong and so are the Arts, from English to Art, Modern Foreign Languages to Photography. Our recent introduction of Mandarin Chinese to the curriculum is exciting and demonstrates the breadth of our subjects on offer.
School is, of course, about experiences. Outstanding extra-curricular provision lies at the heart of what we offer. What we remember from school – what forms us and makes us the adults we become – is beyond the classroom; it's the trips and visits, the performances and matches that we remember, the experiences we share with others and which we never forget. We are fortunate at St Birinus that we have so much on offer. Sport, music and drama are the classic triumvirate – we have teams, bands, clubs and productions for students of all abilities, aptitudes and interests – but there is also a wide range of other activities to embrace. From weightlifting to Warhammer – both of which are extremely popular – there is something for everyone.
Our aim is to produce young people who can go out in to the world as well-rounded citizens ready for the challenges of the 21st Century. What we offer is broad and balanced with the goal of inspiring excellence in the classroom and beyond.
If you would like to find out more, please do arrange to visit us. You will be made very welcome.
John Marston
Head Teacher