PTA
St Birinus Parents Teacher Association (SBS PTA) are a volunteer group who raise funds for our school, support school events and run additional social activities for boys and their families to enjoy.
All this is only possible through the support of school families such as you! Please get in touch if you would be able to pitch in and help.
Please click on the link below for more information about what we do and how you can help and get involved.
PTA 500 Club
One of our main fundraisers is the popular 500 Club, a summary of which is below.
We are now taking members for 2022/24 – you can apply online via: SBS PTA 500 Club Membership Form
Please click on this link to read the full Club rules:
Here is an overview of how the Club works: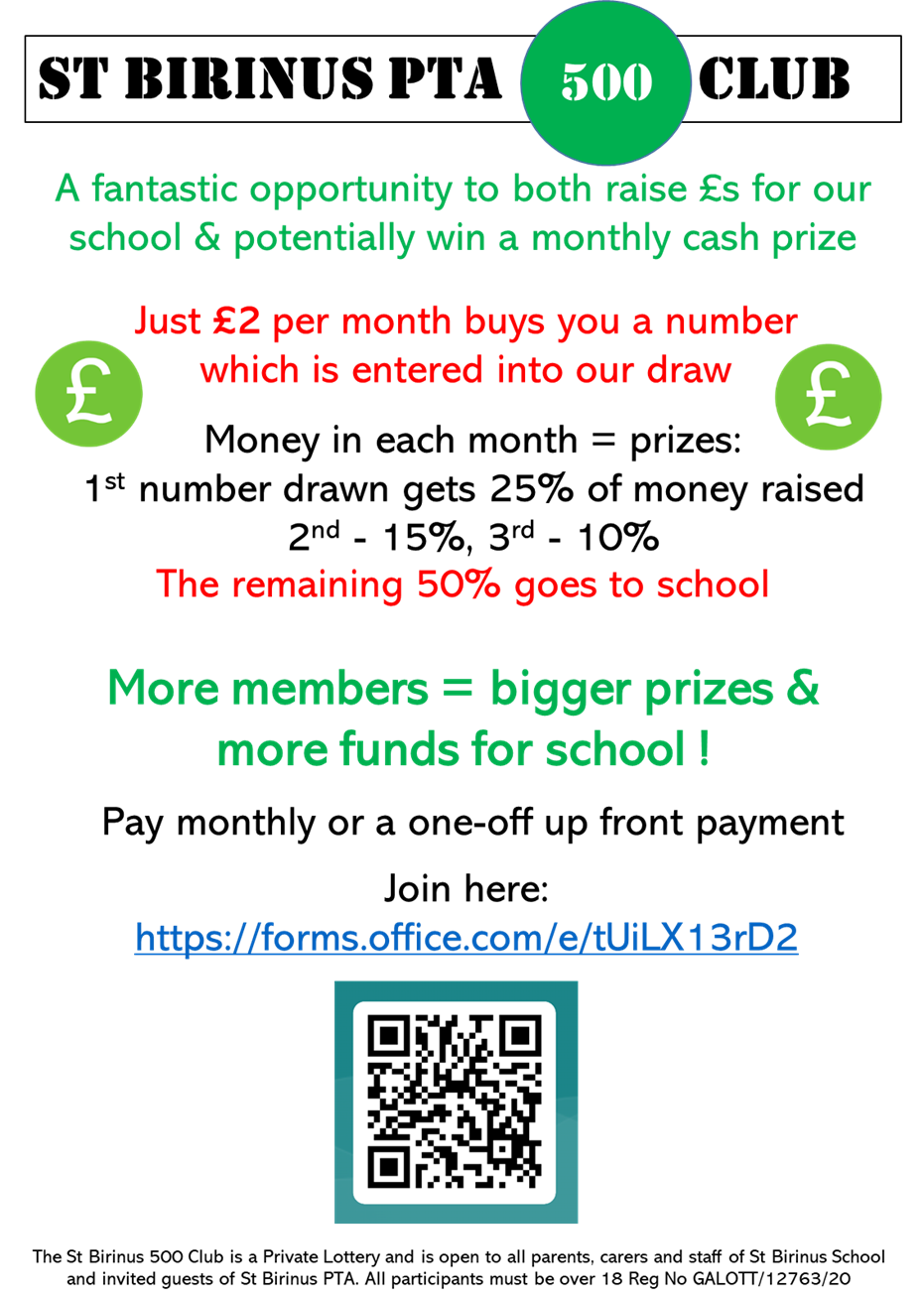 PTA Second-hand Uniform Services
The PTA has a selection of second-hand St Birinus School blazers and PE tops in stock in a variety of sizes.
If you are interested in purchasing one for a small donation please contact the PTA at sbs_pta@st-birinus.oxon.sch.uk
We would also like to add to our second-hand stock so if you have a blazer or PE top that your child has grown out of that is in a good condition please contact us via the e mail above.
Easyfundraising
St Birinus School PTA is a registered cause on easyfundraising. It is a really clever website that turns your online purchases into free donations for us, at no extra cost to you but raises much needed funds for our school.
Simply shop with any of over 3,600 online retailers including Amazon, Argos, John Lewis, ASOS, Booking.com, eBay, Boden, and M&S, and when you make a purchase, the retailer will send us a free donation. It's as simple as that! The donations vary on the amount you spend but all those pennies add up. Every time you shop you go via the easyfundraising page/app and follow the link to the retailer. If you make a purchase then we receive a donation.
Please visit our easyfundraising page at:
https://www.easyfundraising.org.uk/causes/stbirinuspta and click 'support us' – we really do need your support. Please share with your family and friends.
If you currently support another cause it's easy to switch your cause to ours.
So if you are about to start your Christmas shopping, book a holiday or renew insurance, please consider helping us to raise funds by doing it via the easyfundraising page or app.
Thank you for your support. We will keep you updated on how this fundraising is going.
Parents, have you heard of Match Funding?
Many companies throughout the UK offer employees the chance to boost fundraising efforts by 'matching' the money raised by their child's PTA. Match funding could help the PTA to double the amount it raises.
We cannot provide a list of companies that have this policy and would ask that you ask your HR department if this is something that is a company policy. We do know many banks, building societies, insurance companies, supermarkets, utility providers, car manufacturers and phone companies often have match funding schemes. You may work for a small independent company that may also be willing to match fund a fundraiser.
If your employer will match fund money raised by the PTA please contact us via e mail at SBS_PTA@st-birinus.oxon.sch.uk or pass on our details to your company. They will want a letter from the PTA detailing the event and funds raised. Some companies want you to be involved in the fundraiser.
We would be looking for match funding for each of the monthly 500 club draws and future fundraising events such as a raffle. When we can host social events it may be matching the amount made at a refreshment stall, a bingo or race night etc. Amounts could range from £20 to £1000.
Match funding could be a large source of income for the PTA. We would be incredibly grateful if you could ask your boss or HR department if they have a match fund scheme. It could really help the PTA raise more funds for the students at St Birinus School.