School Fundraising and PTA
This page contains information about the fantastic fundraising initiatives of our PTA.
The PTA is launching the SBS PTA 500 Club. Please click on the link below for details of how to sign up!
St Birinus School PTA 500 Club
You can complete the SBS PTA 500 Club Membership Form electronically, by clicking on the link below:
SBS PTA 500 Club Membership Form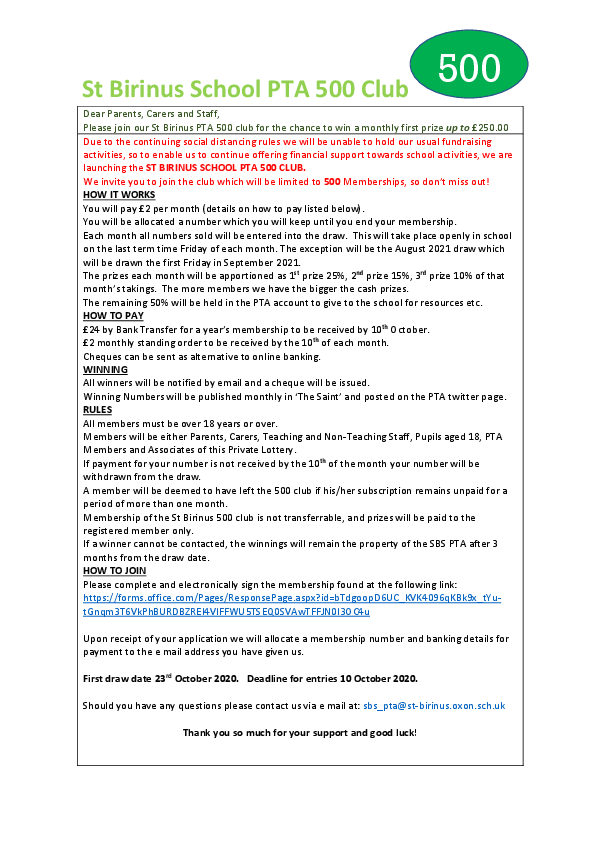 St Birinus School PTA is a registered cause on easyfundraising. It is a really clever website that turns your online purchases into free donations for us, at no extra cost to you but raises much needed funds for our school. In September 2020 with just seventeen supporters we have raised £183.
Simply shop with any of over 3,600 online retailers including Amazon, Argos, John Lewis, ASOS, Booking.com, eBay, Boden, and M&S, and when you make a purchase, the retailer will send us a free donation. It's as simple as that! The donations vary on the amount you spend but all those pennies add up. Every time you shop you go via the easyfundraising page/app and follow the link to the retailer. If you make a purchase then we receive a donation.
Please visit our easyfundraising page at:
https://www.easyfundraising.org.uk/causes/stbirinuspta and click 'support us' – we really do need your support. Please share with your family and friends.
If you currently support another cause it's easy to switch your cause to ours.
So if you are about to start your Christmas shopping, book a holiday or renew insurance, please consider helping us to raise funds by doing it via the easyfundraising page or app.
Thank you for your support. We will keep you updated on how this fundraising is going.