Open Events and Admissions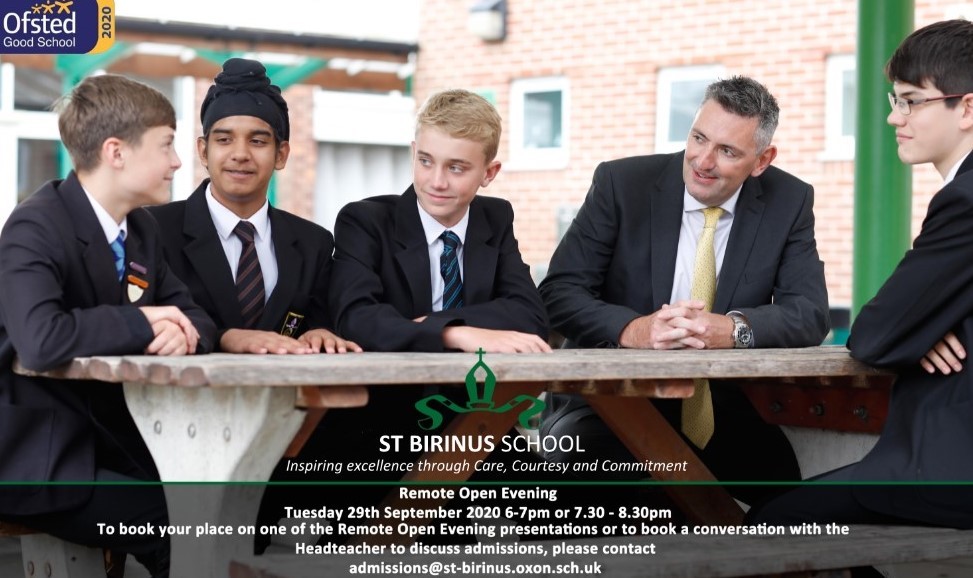 This year, our Remote Open Evening took place on Tuesday 29th September 2020.
We hope that the resources below will give you a flavour of just how inspiring life is at St Birinus School.
If you would like to book a conversation with the Headteacher to discuss admissions, please email admissions@st-birinus.oxon.sch.uk
Resources from the SBS Open Evening 2020
Resources for Rising Year 7 Families
Admissions
The Governors of St Birinus School adopt the same admission arrangements as those for Community and Voluntary Controlled Schools. All applications for places should be made via the Local Authority using the contact details below.
To reserve a place for your son at St Birinus School, it is important to follow these procedures:

If your son is under the age of 11, you will need to apply for a place via Oxfordshire County Council. You can do this either by visiting their website www.oxfordshire.gov.uk/secondaryadmissions or by completing a Common Application Form (CAF) from the back of the Moving On Booklet and posting to the address below. If you do not have a Moving On booklet please contact the School Admissions Team (contact details below) for a copy.
Please do not apply both online and on paper as this may delay the processing of the application.
School Admissions Team, Oxfordshire County Council
Ground Floor, County Hall, New Road, OXFORD, OX1 1ND
Tel: (01865) 815175, Fax: (01865) 783198
Email: admissions.schools@oxfordshire.gov.uk
www.oxfordshire.gov.uk/secondaryadmissions
Please also see the information in our Applications and Transitions page.
We hold an Open Evening and series of Open Mornings every year in September/October to which all prospective families are welcome to attend. We also hold an evening, with www.didcotgirls.oxon.sch.uk/, for potential applicants into our mixed sixth form in November. Information about all of these events is clearly signed on our website well in advance of the events themselves.
To view our admissions arrangements please view the relevant documents below.
Click here to view the appeals procedure:
https://www.oxfordshire.gov.uk/residents/schools/starting-school/school-appeals