Lateral Flow Home Tests
Lateral Flow Testing kits are issued in school for your son to test himself at home. Please make sure your son takes a test every Sunday and Wednesday.
As of Tuesday 14 December, all contacts of someone with a positive case of COVID-19 – whether Omicron or not – should take an LFD test every day for 7 days. This includes all adults who are fully vaccinated and children aged 5-18 years and 6 months. Daily testing by close contacts will help to slow the spread of COVID-19 without meaning people have to isolate.
Research on daily testing from the summer showed it was as effective as self-isolation at keeping cases out of school, and much more effective at keeping children who were well in school.
Pupils should only stay away from school if they have symptoms or they get a positive test result. They can still attend if undertaking daily contact testing.
Full post is here: Five ways we're protecting education against the Omicron Covid variant - The Education Hub (blog.gov.uk)
Instructions for the Orient Gene nasal swabbing LFDs can be found here. The basic steps our outlined below: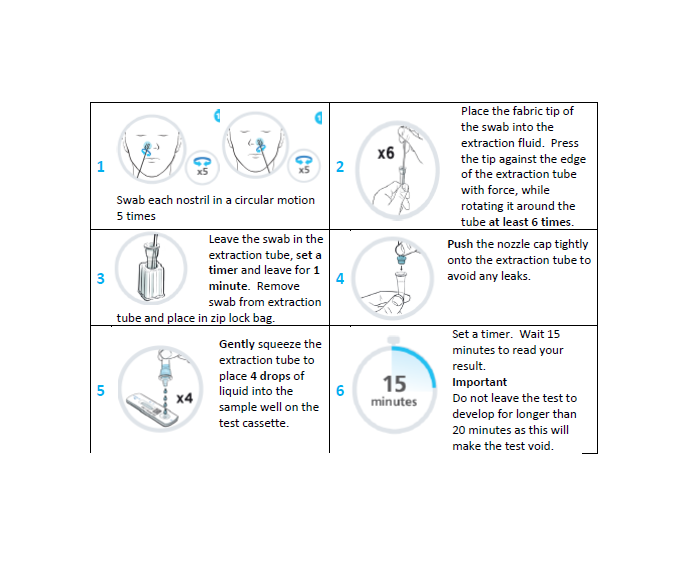 Once your son has completed his test, the results need to be reported to both the NHS and school by using the two links below:
It is essential that you report the results in both places for contact tracing and for maintaining appropriate stock level purposes.
Please note that all students will receive these testing kits, participation in the testing programme continues to be voluntary. For more information on how personal data is used for testing please see the detailed privacy notice, which can be found here.
Negative tests
Those with a negative LFD test result can attend school unless they have individually been advised otherwise by NHS Test and Trace or Public Health professionals (for example as a close contact).
Positive tests
If your son's test is positive:
Please contact the school on covidqueries@st-birinus.oxon.sch.uk immediately with your son's name, tutor group and the best number to call you on in case we have queries.
Your son will need to self-isolate in line with the government guidance and book a confirmatory PCR test (to be taken no later than 2 days after the positive LFD test). If the subsequent PCR test is negative, was taken within 2 days of the positive Lateral Flow Test, and he remains symptom free he will be able to return to school. To find out whether your household will also need to isolate, please visit the updated government guidance.
Please note that the asymptomatic testing programme does not replace the current testing policy for those with symptoms. Anyone with symptoms (even if they recently had a negative LFD test result), should still self-isolate immediately according to government guidelines and book a PCR test.
Even if you have received the Covid-19 vaccine you will still need to follow Public Health guidance in the event of a positive test.
If your son has had Covid-19 within the last 90 days he does not have to take a lateral flow test during this period. However, should he choose to test and receive a positive result you would still need to treat the test as positive and follow Public Health guidance and self-isolate.
Thank you for your support with this programme.