Latest News
Mr Manning and Miss Littler's Thought for the Term: Reflections
Posted on: 16/07/2021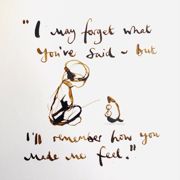 Vladimir Lenin is quoted as saying that,
"there are decades where nothing happens; and there are weeks where decades happen"
and academic year 2020/21 has felt a little like that ...
I have tried to reflect on the journey that the school and the school community have been on since September last year and the twists and turns have been simply breath taking - I can't think of another school year when so much has happened and personal and professional lives have been so entwined. A natty acronym encapsulates this period beautifully, "V.U.C.A". The past 18 months in fact have been nothing but "volatile, uncertain, complex and ambiguous" but on reflection, we have learned so much.
Half a decade of school development planning would never have yielded the IT and digital revolution which has taken place in schools due the pandemic and repeated closures. Consequently, our ability and capacity to be pragmatic, agile, decisive and, most of all, resilient have risen exponentially. The year has, without doubt, been challenging, frustrating and at points amplified with worry and what ifs, but what has sustained the community throughout, has been team spirit, mutual support and humour.
Overall, though, it is the generosity and kindness for me that has been utterly profound.
I will be forever grateful for the empathy and encouragement of parents, the stoicism and relentless determination of staff and the inspiration and irrepressible spirit of our young people.
Will Manning
Headteacher, St Birinus
-----------------------------------------------------------------------------------------------------------------
This time a year ago I was very much looking forward to our school community reuniting after many months apart.
12 months later I am reflecting on what we have learnt in a year like no other.
Our technological expertise has grown immeasurably and we are determined to build on this expertise and have ambitious plans for the next steps for our digital strategy next year and beyond. Remote parents' evenings and other events have shown us that we can still connect even when we are apart.
Along with practical skills such as these, we have learnt that the strength of our community and our values bind us together even when we are physically separated. In recent weeks flashes of normality have returned with some sporting fixtures, extra- curricular activities, work experience and public speaking performances. I can't help but feel immensely hopeful at the thought of a new school year filled with more opportunities to return to an exciting and rich curriculum and a diverse range of clubs, trips and wider opportunities. The challenge now is to look over the Covid-19 horizon and build on what we have learnt as we shape the new year ahead.
Amidst lockdowns, periods of self-isolation, in-school and home testing and changes to examination arrangements it is the Didcot Girls spirit which has kept us moving forwards this year. Outside my window I can hear girls laughing, chatting , moving around the site with energy and hope. Their resilience and good humour have been the heartbeat of the school , even in challenging times. Staff, in whatever their role, have continued to work with creativity and enthusiasm, showing incredible tenacity, even in moments of adversity.
For me, it is the small acts of kindness that have meant so much this year. We may forget what others have said but I will always remember that even in challenging moments I have felt the strength and warmth of the school community behind me.
Whilst we cannot know for sure what the next few months will bring, we do know that we can do this , because our community will be the rock upon which we stand. I want to thank parents, governors, staff and students for all they have done to support the school in the past year.
We couldn't have done it without you!
Georgina Littler
Headteacher, Didcot Girls' School