Latest News
SBS launches Live at Lunch!
Posted on: 02/05/2019
The American actor, Dwight Henry, said: "Music knits people together in some strange way. Same thing with food." So it came as no surprise that 'Live at Lunch', where St Birinus students perform live music to staff and students on Thursday lunchtimes, has already struck a chord within our community and is set to become a regular feature in the Dining Hall.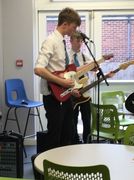 Our talented musicians are met with great appreciation while staff and students enjoy their lunch and we are looking forward to the programme throughout the rest of the academic year.