Latest News
St Birinus remembers - 100 years on...
Posted on: 07/11/2018
To commemorate the centenary of the end of the First World War, over 300 poppies have been handmade by students in Years 7 - 11 and St Birinus School staff. One student has made two - one is being taken to Afghanistan by his father, who serves in the army, to be placed at the war memorial at the British Barracks.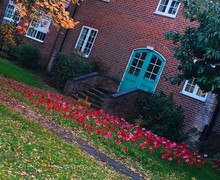 Our Remembrance Garden, the inspiration of Mrs Cawley who teaches Art, Graphics, Design and Technology, will be on display for a week. Students paid a small donation to make the poppies and will be able to take them home once the display is taken down. The money raised will be split between Help for Heroes and The British Legion.
The poppies are there to support not just the fallen in World War 1 but also the soldiers who are still suffering today from Post-traumatic Stress Disorder and Combat Stress.