Latest News
Year 11 SBS student honoured with the British Citizen Youth Award
Posted on: 05/11/2020
We are utterly delighted and extremely proud that Daniel Lloyd, Year 11, was one of just 25 extraordinary young people from across the UK to be honoured with the British Citizen Youth Award in 2020.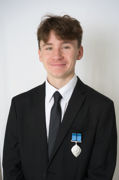 Due to current government restrictions, the usual grand medal presentation ceremony at The Palace of Westminster is unable to take place. Daniel therefore received his BCyA medal by courier, together with a video message from some of the Patrons and an invitation to the House of Lords to be presented with his certificate, at a future date when it is safe to do so. When Daniel received his medal through the post it was a complete surprise and took a while to sink in!
Following the loss of one of his best friends in March 2019, Daniel wanted to raise money in his friend's memory and support the hospital that had cared for him. He completed a 5k obstacle colour run in May 2019, raising over £430 for the PICU at the John Radcliffe Hospital in Oxford and remains committed to raising awareness for youth mental health and helping to support other students at SBS. Daniel was keen to turn such a tragic situation into something positive by promoting better understanding of mental health amongst staff and students and removing the stigma of talking about mental health issues within school.
He spent his summer holidays baking and selling cakes to order, having a cake sale and holding a raffle all to raise funds for SBS. Daniel raised over £1,500, an incredible sum, which enabled members of the staff pastoral team to be trained in mental health first aid - although they had no idea that Daniel had been raising money for this specific reason.
In Janary 2020, Daniel started Markers for Mindfulness, an initiative to bring school basics to primary schools struggling with funding cuts. By providing schools with donated stationery - pens, pencils, whiteboard markers, paper, etc., he hoped it might help free up part of their budget to be used in other areas to support student wellbeing.
In the recorded message to BCyA medallists, Dame Mary Perkins, Co-Founder of Specsavers and BCyA Patron said "These incredible young people are the rising stars of the future – let us shine a light on them and celebrate! I hope that many more youngsters will follow in their footsteps."
We are enormously proud of Daniel, his quiet determination to effect positive change and his relentless pursuit of Care, Courtesy and Commitment. We hope that he will inspire many of our students to step forwards and make a difference. Congratulations on a momentous achievement, Daniel!