Latest News
Thought for the Term: Diversity
Posted on: 07/05/2021
Diversity
by the DGS Diversity Leaders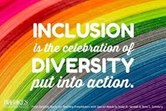 This term we are using our 'thought for the term' to recognise and celebrate the inherent diversity that is present within our School communities, a theme that will be continued through the remainder of this year and into next by our new Diversity Leaders at DGS. We asked them to offer their thoughts on what diversity means to them and we share some of these with you now.
"Here at DGS, we are blessed with the gift of having more and more diverse year groups each year and as a result of working together and being inclusive of all kinds of students and staff, we increase our richness of ideas and respect for others in doing so. Diversity and inclusion are about giving value to every human being and fully embracing our uniqueness, regardless of our differences." Tahira
"When I think about diversity I often think about biodiversity - the more biodiversity there is in an environment the easier it is for species to survive. As in nature, there is also a huge diversity within the human race - we need to be inclusive of each other so we can thrive together and be stronger as a community." Maya
"When I think of diversity I think of equality and being equal to all races, genders, disabilities, sexual orientations and ethnicities." Bushrah
"To me, diversity is not only important when it comes to recognising the differences within a community, but also how you then go on to celebrate those differences. Difference makes a community stronger - it allows us to solve problems from different angles. It means recognising the attributes that make you individually unique and embracing them to promote a wider sense of diversity and, more importantly, inclusivity." Sydnie
"To me, Diversity is not just acceptance and acknowledgement between communities, but pride and celebration of everyone's uniqueness. Everyone on the planet has something that makes them slightly unique, or different from other people, and that's something we should all be grateful for. It would be amazing one day, to have everyone uplift and celebrate everyone, no matter what makes them stand out from the crowd. I think, when we achieve true diversity, it will be when nobody is held back for being distinctive. Of course, that is a long journey yet, but we can all do something to help us get there. In order to be truly proud of each other, we must be educated on what makes people who they are, and not cast judgement on others for something that they can't control" Emily
"Diversity is having a seat at the table. Inclusion is having a voice. Equality is having that voice heard. Humans are different, and we should value this. Embracing and celebrating our differences strengthens our community; accepting every individual's uniqueness is the path to inclusion. How can the world progress if we do not value every quality our human race has to offer?" Chloe
Thank you so much to our Diversity Leaders for taking the time to share their thoughts.
Dr Comina Head of Ethos